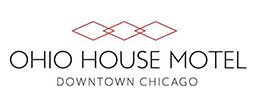 Core Challenges
Inability to manage rates remotely
Slow PMS that takes upwards of 5 minutes to check-in guests
Zero reports or night audits, making bookings difficult
SkyTouch Solution
100% cloud-based with the ability to change rates in seconds
Speedy guest check-in and check-out
Over 100 user-friendly reports available
Results
Zero issues with rate management, improving the company's bottom line
Happy guests and rave reviews on TripAdvisor
Multiple report options that can be pulled anytime, anywhere
Schedule my Demo
No commitment required. Fill out the form below to learn more.
Opened in 1960, the recently renovated Ohio House Motel is a retro-Americana motel that is perfect for all travelers. Coveted by Chicago Marathon fans, this Motel sits in the heart of the city and is enjoyed by both locals and International travelers alike.
"We're the main spot where everybody starts," said Edgar Bran, General Manager of the Ohio House Motel. "Literally everybody starts running on the corners of Ohio Street and Lasalle Street, so our street gets closed down." The Ohio House is not too far from the Magnificent Mile and nearby attractions include the Water Tower, Sky Deck at Willis Tower, Cadillac Palace Theater, and the House of Blues. There is also a two-deck tour bus that passes by the motel. Edgar says most of the motel's guests are tourists visiting internationally. "They literally just come from all over and choose our property because we're right in the center of everything," Edgar said. "For being such a small property, we're actually about the only motel in downtown that gets busy in summer times."
 While the Ohio House Motel maintains its antique vintage facade, Edgar says the inside is a whole other story. The property's rooms are now all newly renovated, and some areas are still in the renovation process. "It's totally different what you see on the inside," Edgar said. "People leave out of here, literally astonished of our property." Edgar says SkyTouch has been a game changer for the Ohio House Motel, offering value for the property and its guests. He tells us that the day his property switched to SkyTouch was a day they will never forget. "Ever since we've had you guys on our property, things have been great," Edgar says. "I have no issues with rate management, guests are happy. TripAdvisor reviews are great; everything has been running smooth."
According to Edgar, the ability to manage rates remotely, from any mobile device and from anywhere, has been a huge help for the company. "That's pretty much all I do when I'm here, watch out for revenue and all that, changing rates from now all the way until maybe 2019," said Edgar. "Here in downtown, we get a lot of conferences and conventions, so we can go from $90 to $500 a night, and that's on a standard room."
Other features in SkyTouch that Edgar says he finds essential for his property include the night audit reports, reservation activity reports, and speedy guest check-in and out. With their previous Property Management System (PMS), Edgar says it would take three to four minutes to check someone in. With SkyTouch, it is a matter of seconds. "We can actually check a guest in within one minute. I timed myself: 40 seconds," Edgar said. Having interesting conversations with guests while checking them in in speedy manner makes the process pleasant, Edgar continues. "Plus, with your technical support, your response time is very, very quick. You guys don't waste time. If there's a problem, you guys fix it. To me and my team, that's very important!"
"SkyTouch really does listen and they continue to grow the system to match the needs of the people using it."
Josie Kilgore
Brand President, Cobblestone Hotels and Suites
"We look at it as a true partnership, so we are helping each other grow. Having that relationship with SkyTouch is important to both of our success."
Amanda Saye
VP of Franchise Operations, GreenTree Hospitality Inc.
"We are finding great value and payback versus anything else out there on the market, and I have seen them all."
Greg Posmantur
CEO and Managing Partner, JYI Hospitality
"The ability to adjust rates on the fly with remote access is the biggest advantage."
Dylan Clarke
General Manager, Jays Inn and Suites
"After using 7 different systems, SkyTouch was the most intuitive and user-friendly. Everything including the reporting system was remarkably easy to manage."
University Inn
Fresno, CA
"I am so impressed by the amazing customer service. I can call in with my question and the person I am speaking with knows how to quickly assist. It feels like I am talking to a SkyTouch EXPERT whenever I call in."
Esther Yoon
GM, Morning Glory Inn & Suites