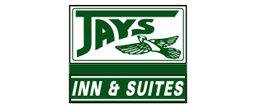 Jays Inn & Suites is a premier hotel in Virden, Manitoba. Located 45 mins west of Brandon on the Trans-Canada Highway, this Virden hotel offers friendly service, a casual atmosphere and convenient location.
Schedule my Demo
No commitment required.
Jays Inn and Suites located in Manitoba, Canada is a 20-year-old, 40-room property. With the addition of SkyTouch, the hotel has modernized its technology to increase profitability.

Core Challenges
Limited and inflexible interfaces
Manual rate setting
Zero remote access, limiting hotel management
SkyTouch Solution
Cloud-based remote access
Flexible, automated rate management
Streamline employees' daily tasks
Results
Maximized rate opportunities and the ability to update anytime, anywhere
A raise in occupancy during slower business periods
Elimination of on-site expensive hardware
Increased employee efficiency