Core Challenges
Need for a more intuitive PMS with the ability to easily train staff
Lack of integrations that fit staff and customer needs
Difficult system interface
SkyTouch Solution
24/7 Customer support and quick response time
Growing list of integrations and enhancements
Intuitive system design
Results
Successful and cohesive relationship that creates growth
Integration additions that meet guests needs
Minimized training time and costs
Schedule my Demo
No commitment required. Fill out the form below to learn more. 
Founded in 2015, the first U.S. GreenTree Inn located in Phoenix, AZ was the start of a quickly growing hotel brand. With exceptional guest experiences to both corporate and leisure travelers, the brand offers seamless hotel operations and a unique rewards program all while minimizing its impact on the environment through its green initiatives.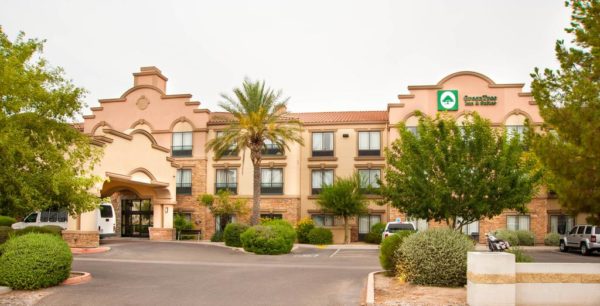 GreenTree Inn is an owner-centric brand aspiring to put common sense back into the hotel-franchise business. While the original GreenTree company has gone public, its extension in the United States, a private and separate entity, GreenTree Hospitality Group, Inc., has grown its select-service hotel brand, offering a low-cost franchise platform.
In 2015, the first U.S. GreenTree hotel opened its doors in Phoenix, Arizona: GreenTree Inn &Suites Phoenix Sky Harbor. Since, the brand has quickly grown its presence over the past few years, providing consistent, quality stays with value-driven rates. Each hotel embraces the area and culture that it is in, also offering sustainable initiatives; after all, "green" is in their name. Amanda Saye, Vice President of Franchise Operations states, "We are bringing common sense back into the hotel business by individualizing each franchise to fit the market that it is in, and I believe that has played a major role in GreenTree's success. Your hotel in Sedona, Arizona is going to have a completely different vibe than your hotel in Alhambra, California."

With plans to continuously grow, GreenTree envisions reaching that growth plan by differentiating themselves and providing value to the owner with the correct system technology, including their PMS. In an industry with a lot of turnover, things need to be consistently nurtured. Saye expressed, "Having strong relationships with our franchise owners and our PMS system is important so we can assist each other and continue to create successful hotels." So, when looking for the right PMS, they searched for a company that would value the relationship and be responsive to their needs. Saye explained, "To grow and scale with the brand was a big factor and that is why we chose SkyTouch. It is similar in an entrepreneurial sense like GreenTree and we like that." Saye goes on to say, "We also wanted a great product that was quick to respond if we needed them and the support at SkyTouch does just that."
Since being with SkyTouch, GreenTree's efficiencies have greatly increased overall. The intuitive system has been beneficial in reducing training time and costs for front desk staff and hotel GM's. The ability to start managing quickly is what sets SkyTouch apart from the rest. With continuous integrations and enhancements being added, the SkyTouch Hotel Operations Platform is quickly growing to stay ahead of technology trends which has been beneficial to GreenTree and their rapid growth.
With more and more hotel brands marketing towards specific segments tailored to everyone's likes and hobbies, GreenTree has been finding success by differentiating themselves through their green initiatives and regional segmentation. Saye expresses, "When you do the market research, it still remains that what people care the most about are clean rooms and a friendly environment, but segmentation is definitely important in creating that environment." Some key challenges that come with this notion are varying customer needs. There are guests that enjoy as much human interaction as they can get and then there are guests that would rather have everything be electronic with little to no human interaction. The challenge for the hotel is to have a staff that is knowledgeable to both ends of the spectrum and to have the correct integrations and technology to exceed any customers expectations during their hotel stay. "SkyTouch is great because their integrations are easy to add, cost effective, and meet the guests needs. The guest drives everything we choose to have in our hotels and what systems to integrate with." says Saye.
Continuous technology enhancements are currently trending in the hospitality industry and something that SkyTouch likes to stay ahead of through their growing list of integrations. There is, however, a wide spectrum when it comes to enhancements within hotel technology. There are hotels out there that are completely ran by robots and then there are hotels that are still taking reservations by hand in a book. Saye voices, "We think moving in a more technological way is something to strive for, but we don't want to lose that human interaction either; we still want that hospitality factor. When hotel groups go too far in the tech space, they have a way of alienating their clients and that is not what we envision with our brand." With the enhancements and integrations that SkyTouch has, it values the guest. Whether it is by elevating their hotel experience or by protecting their personal information, superior hospitality and streamlined operations is something that SkyTouch Technology provides for its clients.