Core Challenges
A need for integrations across multiple properties
Lack of easy rate change
Need for uncomplicated training for staff
SkyTouch Solution
One PMS with additional integrations across multiple properties
Rate & Channel manager allows for quick and easy adjustment
SkyTouch University eLearning modules
Results
Easy bookings that lead to repeat guests
Efficient and profitable rate management
Confident staff with easy-to-use system
Schedule my Demo
No commitment required. Fill out the form below to learn more. 
Located in the oldest area of San Juan, this popular destination is full of culture. The El San Geronimo Hotel is a boutique hotel that offers a convenient and relaxing stay. Located just steps away from cultural attractions and the beach, tourists and locals alike can uncover San Juan's old history while staying in luxurious accommodations.
El San Geronimo is a boutique lifestyle hotel perfectly situated near historic landmarks and nearby businesses and convention centers. Whether you prefer to be closer to downtown or the beach, the luxury boutique offers suites to accommodate any preference.
Edwin Cruz, General Manager of El San Geronimo explains, "We opened the property with SkyTouch. I had seen how easily the system worked previously and being able to integrate across multiple properties with the same PMS system was something we really value." With multiple small boutiques, having one property management system easily accommodate bookings and integrations has made the hotel incredibly easy to manage. Guest experience has also increased because guests can easily choose where they want to stay for the length of their trip without any confusion. "We often have guests that want to spend a few days right in the city and then spend the rest of their trip on the beach at our property next door. Being able to easily accommodate rooms for that guest has been very beneficial," explains Cruz.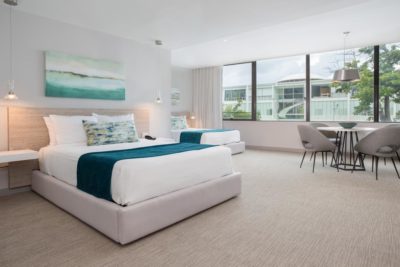 Aside from the many advanced integrations that SkyTouch offers, Cruz boasts about the rate and channel management features. He explains, "The rate and channel manager allow us to be profitable and quickly adjust rates when we need to. Having everything in one window makes it incredibly easy and efficient." The SkyTouch platform powers a 'Best Available Rate' strategy that adjusts room pricing everywhere rooms are sold to better match the continually changing market demand. With the system being 100% cloud-based, hoteliers can quickly adjust the rates from home, which in turn increases revenue while eliminating stress caused by worrying about market conditions on any given night.
The intuitive platform has not only erased stress for Cruz, but his entire staff as well. With such an easy-to-use dashboard, the hotel staff has gained confidence in learning the SkyTouch system quickly. SkyTouch University is self-paced eLearning modules that help users acquire the know-how to navigate the SkyTouch system with the utmost confidence. Each learning path is customizable with courses specific to individual roles, so everyone that touches the platform feels comfortable and confident in performing their daily duties. Cruz exclaims, "It was so easy to train our staff with the online videos that SkyTouch has. They are so straightforward that it makes it easy for the staff to learn and remain confident within their individual roles at the hotel." "We had created a manual of how to use the system, but the platform is so intuitive that we never even use it!" With an active customer community and 24/7/365 free live support, SkyTouch ensures its customers are receiving the best service possible because customer success is at the heart of everything we do.